Introduction
(Device) Drivers handle all communication between software and hardware. Modifications to the operating system, e.g. through Windows updates, can cause hardware to malfunction or no longer function at all. This has a negative impact on overall system performance.
Making sure your drivers are current requires a software that compares your installed drivers against a database and provides updates for outdated drivers. Ashampoo Driver Updater does exactly that and always keeps your drivers up to date. Read on to learn how.
1. System scan
Once launched, Driver Updater will analyze your entire system for outdated drivers and provide an overview along with available updates.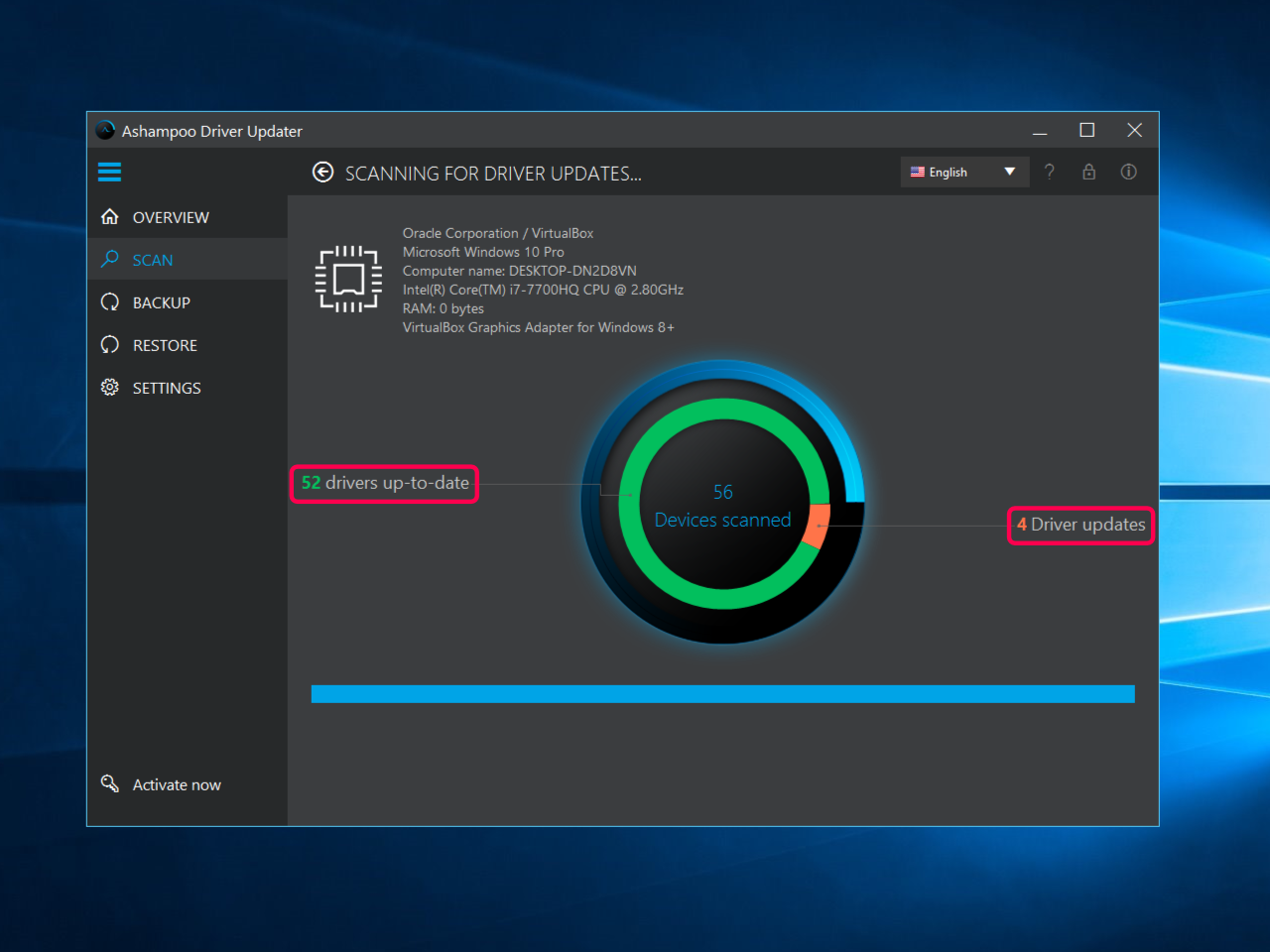 2. Backup existing drivers / Create system restore point
We recommend you back up your existing drivers before they're updated. For that, click "BACKUP" (1) and select all affected drivers (2). Then, click "Start backup" (3).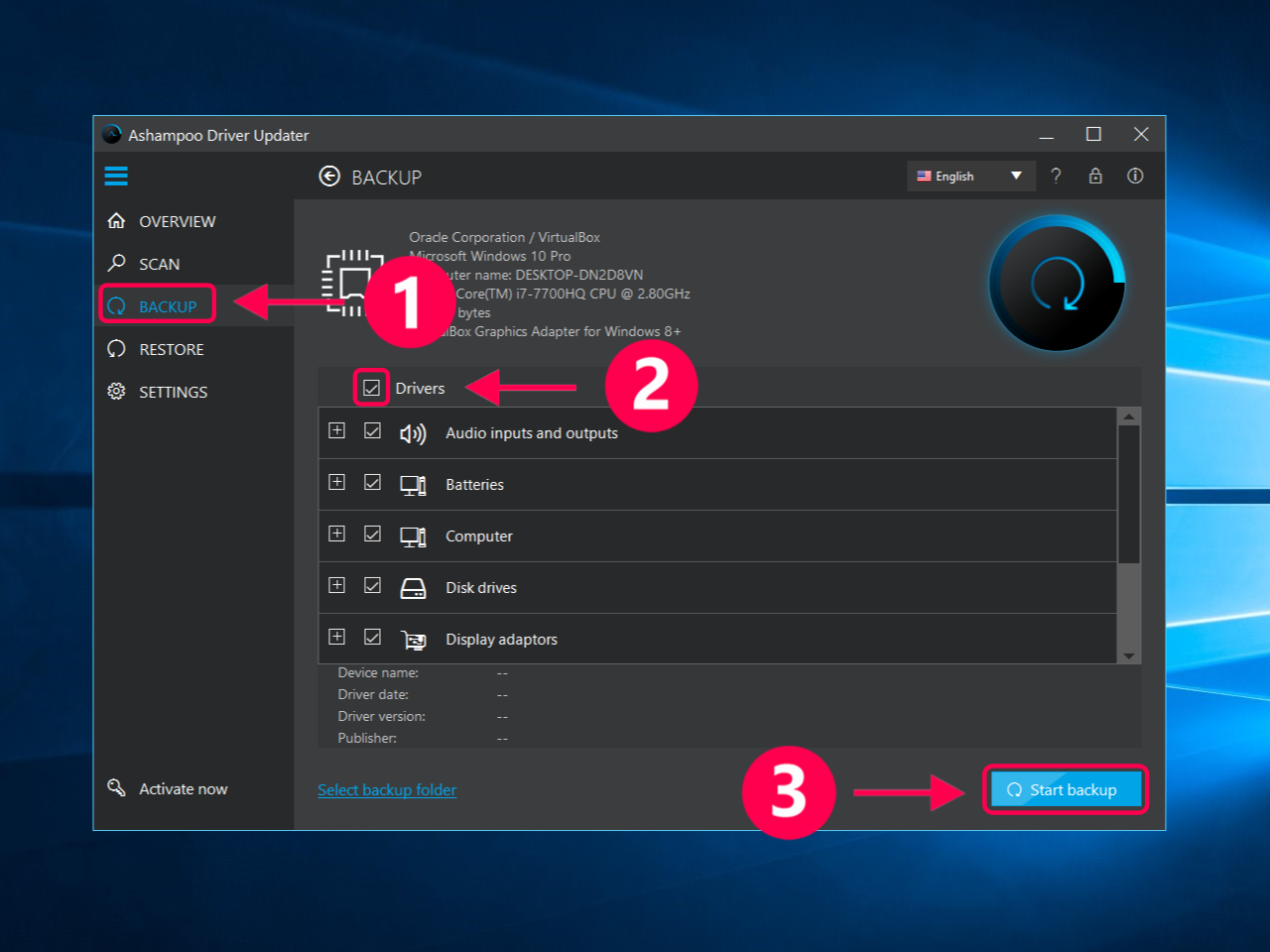 An even safer way is to create a system restore point which includes all drivers and system settings. You'll find instructions for that in this article: How to create a system restore point and save your current system state in Windows 10.


3. New drivers
Click "OVERVIEW" (1) to return to the results of the analysis. Use the check boxes to exclude individual drivers from the update process, if needed (2). Click "Update all" to begin the update process.
In case your still in the trial phase, you'll be notified that a license is required to perform the updates along with the option to buy the program (1). If you already have a license key, you can enter it here (2).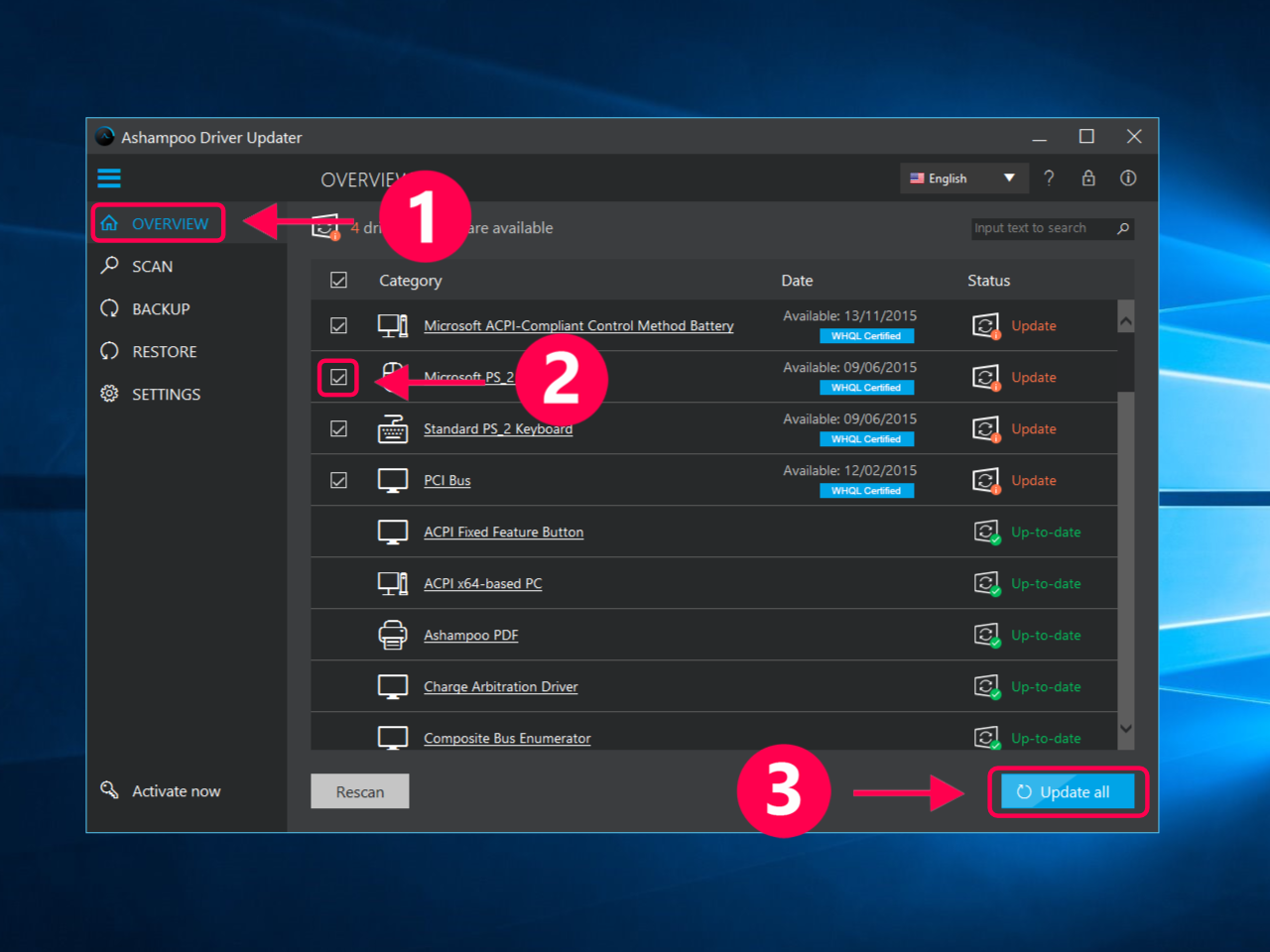 4. Installation notes
For the driver installations to succeed, you may have to temporarily disable your security and firewall software. During the process, you may also experience occasional screen flickering, program crashes or network disconnects should the corresponding drivers need to be updated so it might be best to save any open documents and close all other running applications . Click "Okay, I understand" to proceed.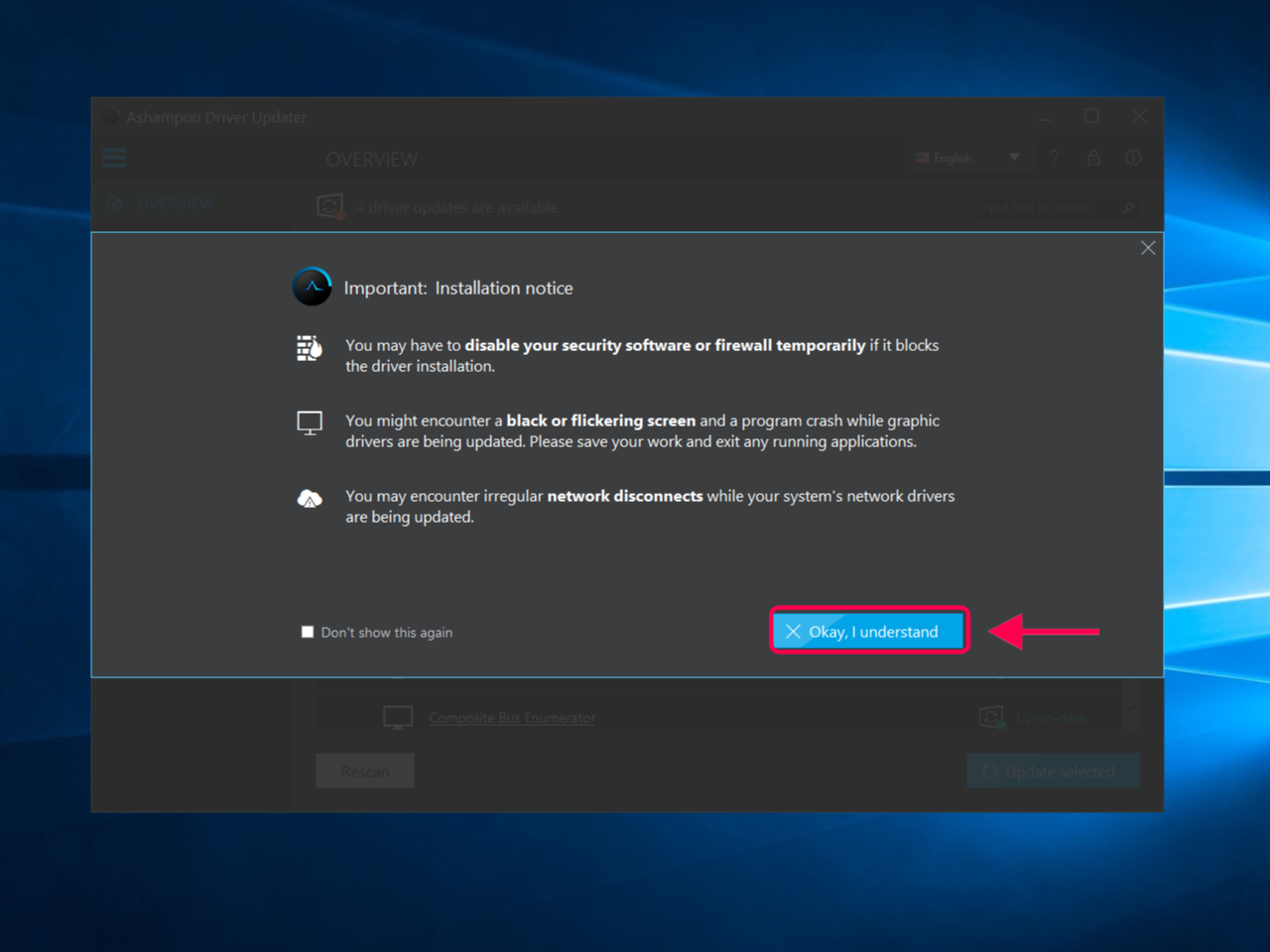 5. Conclusion and restart
Once the update process is complete, you'll see a summary along with a prompt to either restart your PC immediately or wait 60 seconds for the restart to occur automatically.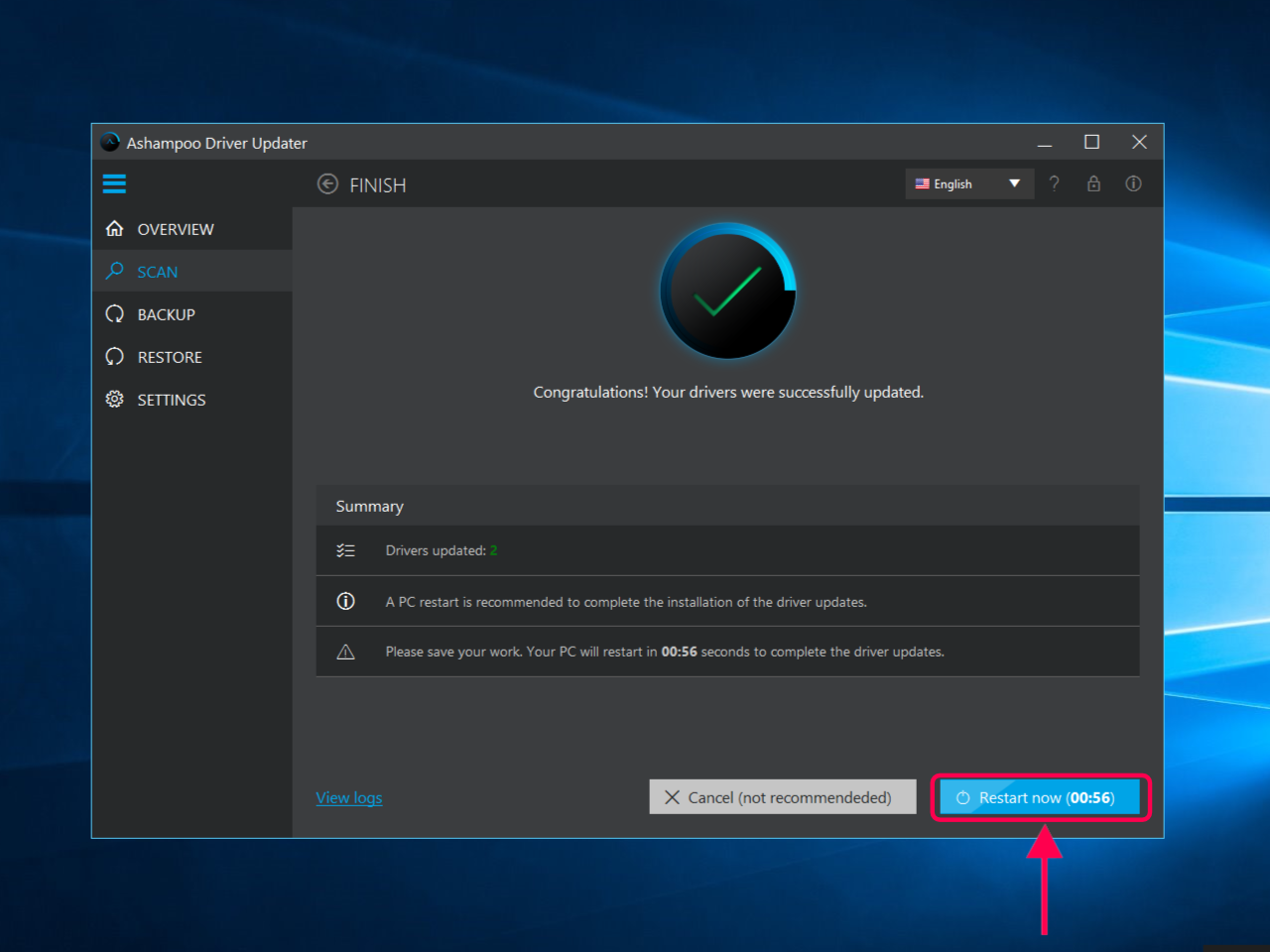 Would you like to have the latest drivers on your computer at all times? Here you can test our Ashampoo Driver Updater for free: <Ashampoo Driver Updater>